Our Story
.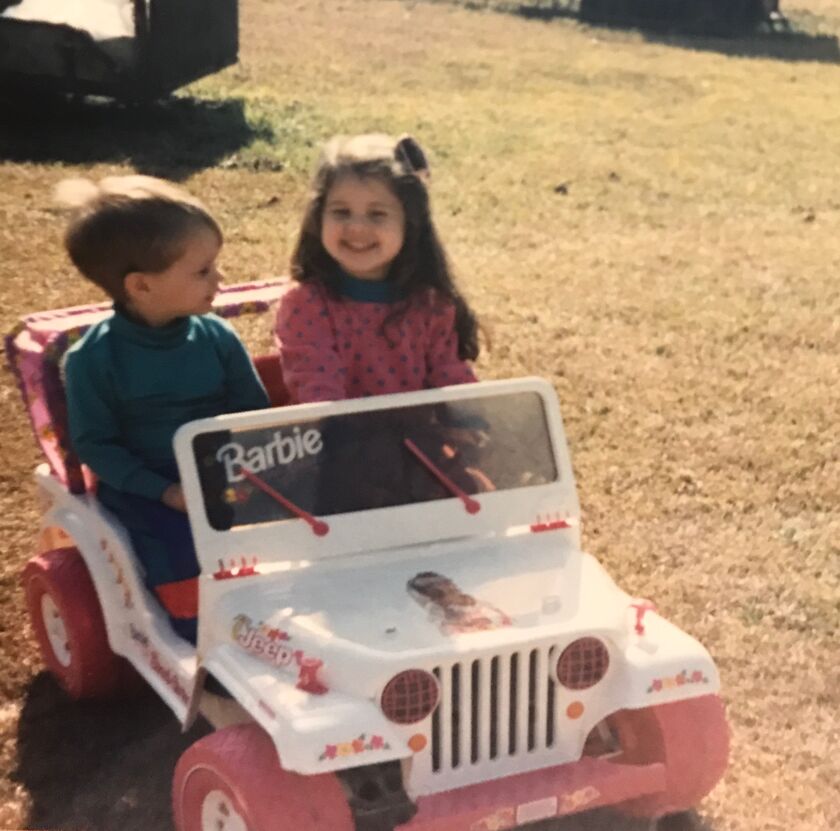 Well, Alden and I go way back to when we were in diapers. We grew up together; no seriously - we really did! And yes, it is one of THOSE stories. Alden's parents, Mr. Chuck and Mrs. AC, lived right next door to my grandparents (my mothers side). Alden and I rode around in my Barbie jeep, we went to each others birthday parties, and spent a lot of quality time together.
As the years went by, he went to Oak Grove and I went to PCS but we still were a part of the same church - Temple Baptist. We also were at Southern Miss at the time same. (At this point in the story, we had not communicated much for years except for a simple 'hey, how are you?' if seen around campus).
Fast forward to 2017.
In the fall of 2017, my parents and I saw Mr. Chuck and Mrs. AC at Fox's Pizza one week and then Outback a week or two later. Mrs. AC would always say, 'Ashlynn, when are you and Alden gonna hang out? You need to text him.' I'd always say, 'Haha Mrs. AC, we've been texting some here and there.'
The end of November and first of December roll around and I get a random text from Alden saying, "Hey, I want to take you out on Saturday" (12/9/17). Of course I said Yes! - and in the back of my mind I'm thinking.... what do I have to lose? We'll always be 'friends that grew up together' if there is no spark. Well, that Saturday came toooo quick and I was SO nervous for some reason - 30 minutes before Alden comes to pick me up I'm pacing my house back and forth trying to figure out what in the world I'm going to say. Example 1: 'Hey friend, I haven't had a face-to-face convo with you since 1996." Example 2: 'Hey, I'm Ashlynn - how are you?" Example 3: "Hey Alden, how are you? It's been way too long. Would you like a tour of my house real quick? Ok great, come on in." Y'all know of course I went with #3! And then out we went heading to Patio 44. On the way there, I nervously asked... "So is this a date or just hanging out or what." Alden says, "Oh, this is a REAL date." After that night ended, I was smitten. We had the best time catching up and laughing - there was not one dull moment - could you imagine that? :-)
From that night on, we continued to text message, go on dates, spend time with our families together and continue to grow our special bond. We 'officially' started dating after Southern Miss lost their bowl game on December 27, 2017. It was on our second or third date that I vividly remember Alden looking over at me and saying, "You know what? I think I just went on my last first date ever." At that moment, I knew that he knew that I was the one (say that three times fast). I also knew that he was the man that God set aside for me instantly.
I guess I can say it is true when people say, "When you know, you know." Alden and I have had the best time learning together, growing in Christ together and making Him the foundation of our relationship and soon-to-be marriage. Some days I think, 'Wow, I am so blessed. How do I deserve this?" I have learned over the past year that God will work wonders in your life when you least expect it. And it's not OUR story it's GODS story for our lives, He is the author and perfecter.
I never would have thought in a million years that the first boy I ever hung out with will be my husband that I will grow old with. God new EXACTLY what He was doing when Alden and I were sitting in that Barbie jeep clueless of what was yet to come. From what seemed like a thousand years for us to get to this point... "with the Lord a day is like a thousand years, and a thousand years are like a day" 2 Peter 3:8.
July 20th, we are READY for you!
#BennettToWinIt
The Wedding
Saturday, July 20, 2019
6:00 PM
Attire: Formal
Ceremony
Temple Baptist Church
5220 Old Hwy 11, Hattiesburg, MS 39402, USA
Reception
Dogwood Venue
4244 Mississippi 589, Sumrall, MS
Wedding Party
Grace Helen Cornett - Maid of Honor
Laura Elaine Weible - Bridesmaid
Ali Blackledge Jenkins - Bridesmaid
Lyndsay Eleanor Pleas - Bridesmaid
Lindsay Jacquelyn Ward - Bridesmaid
Tayler Ainsworth James - Bridesmaid
Nelly Yanez Sappington - Bridesmaid
Mary Lois Brady - Attendant
Cameron Edwards Kemp - Attendant
Jennifer Hardin McClelland - Attendant
Rebecca Nicole Rogers - Attendant
KJ Lockley Miri - Attendant
Bree Elise Mordica - Flower Girl
Saylor Jane Presley Stoll - Flower Girl
Joseph Brumfield Bennett - Best Man
Tyler Seth Barron - Groomsman
Jeffrey Keegan Haeger - Groomsman
Dustin Dale Autry - Groomsman
Zachary Paul Slusher - Groomsman
Robert Batson Brumfield - Groomsman
Gary Stewart Stanton - Groomsman
David Erwin Cohen - Usher
Richard Grant Carlisle - Usher
Mason Turner Brady - Ring Bearer